By: Carissa Zawiski/Junior Assistant to the Editor
Flex has always been a half hour period for students to catch up on work, finish homework, make up tests, and have time for club meetings to take place. However, over the years, some students have taken advantage of this time. This year, the administration has made some changes to flex in order to make students use their time for the right purposes, but it actually may be taking time away from students to do their work.
Monday is character development day, which is intended for students to share about themselves with their classmates, and to help build support among the students. Each month has a different theme; for example, September was "building positive habits." Tuesday's and Thursday's are test make-up days where students can do their homework, make-up tests, or study for upcoming tests/quizzes. Wednesday is Sustained Silent Reading day (SSR) where students pick a book and read for 30 minutes. Students are allowed to do classwork on Wednesdays, as long as it involves reading and/or talking to the text. Finally, Friday has several different purposes depending on the time of month. The first and third Friday of each month will be used for club meetings, and the fourth Friday of each month is used as a Career Advisement Period (CAP).
As for many students, including me personally, the new flex is not very beneficial to our studies. Some students feel that their time is being wasted because they aren't allowed to work on their school work on certain days. Junior Anthony Torres stated, "I feel some days are useful because I still have time to complete work and study during my flex period, whereas other days are not so useful, since we are required to have group sessions on Monday." With only certain days reserved for homework, Torres added that many days can be stressful because of all the assignments and homework he has to complete in such little time. "My work doesn't end at school. I also volunteer in my community and my Church, and manage sports. Not only do I find it stressful, but it's also stressful for athletes and people who participate in extra-curricular activities, since it makes it harder for them to have enough time to complete their work on top of their activities."
Speaking of athletes, Junior Kaitlin White spends most of her time playing travel softball, and mentioned that she finds it can be irritating when she wants to do other work, such as MathXL, but can't because it's an SSR day. "It is more difficult to get homework done because of not having flex. Some nights people get home late from games and it is really hard to do homework that late." When asked if she would change flex back if she could, White answered, "I would go back to the normal flex so I can do whatever needs to be done and not have the days dictate what I can and can't work on."
Some of Blue Ridge's students, including myself, have spoken about trying to change the administration's new flex structure and rules. Junior Brandon Findley started a petition for flex period to go back to how it originally use to be. Findley stated that "the new flex has been created and based off of a small group of people that it benefits. However, the majority of the school feels that we should have flex to do homework or extra class work, the reason it was intended for." Findley also mentioned that it's really stressful to get homework done with only 2 days of flex per week. "It's especially stressful for people involved in extracurricular activities to get homework done with only 2 days of flex."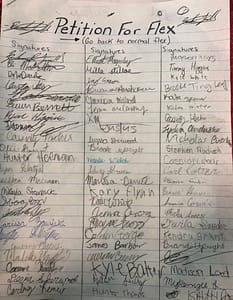 As you can see from the petition that Findley started, the majority of students want their old flex back. We hope that all of our opposition will create a change to return flex to its original manner.
To see why Kaelin Hughes enjoys the new flex, check out "The New Flex IS Good, Just Don't Ask Anyone Else."