By: Kaelin Hughes/Content Editor
If you're in or have been in any Advanced Placement (AP) classes, you understand the stress of preparing for the May exams. Well, fret not, because the CollegeBoard has you all set for the year.
The brand new AP Classrooms on the CollegeBoard website allow students in different courses to access progress checks on specific material in their courses. These progress checks will either be multiple choice questions that will be graded automatically, or free-response questions (FRQ's) that teachers are given a suggested guideline for grading. This is allowing students and teachers to check in on how they are doing in the class and see what concepts and objectives they need to work on.
With that being said, let's take a look at the new classrooms for AP students: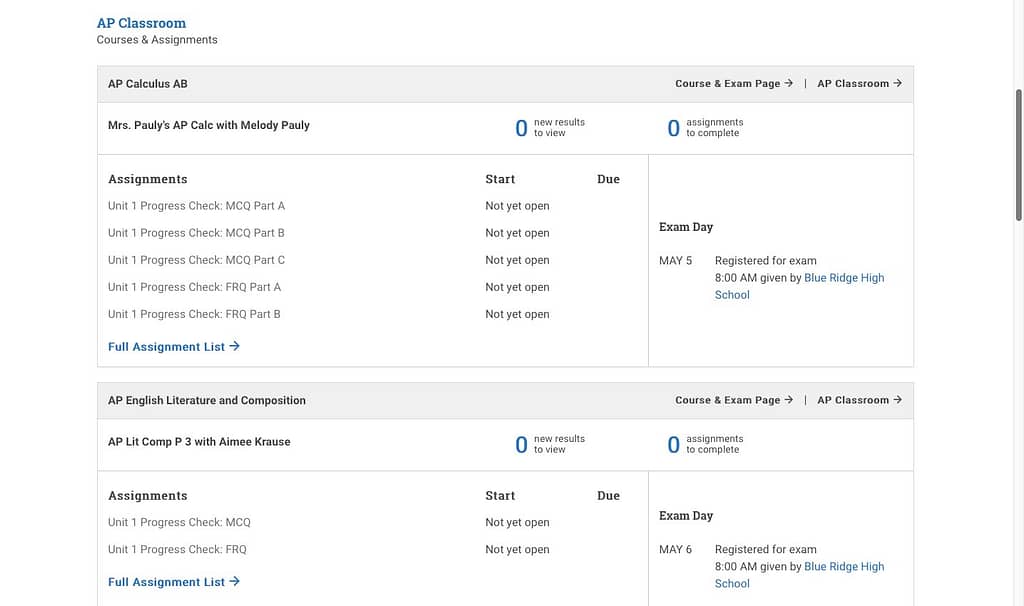 This is a view of my classroom dashboard on the CollegeBoard website. As you can see, there are multiple FRQ's and multiple choice sections for just the first unit of each of my classes, which shows the thought and effort put into this new resource for advanced placement students. 
The AP Classroom materials are not required for teachers, but all of the AP teachers at Blue Ridge are making use of the suggested provided materials.
AP English Literature and Composition teacher Mrs. Aimee Krause is becoming acquainted with the new AP Classroom program, and "loves it!" She is really looking forward to what this year holds for both her and her students with the classroom, and hopes the use of it helps the students become more familiar with questions that will be on the AP exam and ease test anxiety.
Third year AP student Gabe Waldowski is looking forward to the use of AP Classroom for his AP Macroeconomics class, as it can be useful for teachers to teach the curriculum to focus on what the students are having trouble with. 
All in all, it is evident that AP students at Blue Ridge can/will benefit from the implementation of AP Classrooms into the classroom. Teachers anticipate how it will aid themselves and students through the challenging courses, and students are excited to focus on troubling aspects of these college level courses. Overall, AP Classrooms will be a great help to Blue Ridge.